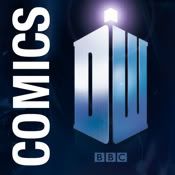 'Doctor Who' Comics App Lands!
IDW Publishing and BBC have released a new 'Doctor Who' Comics App for the iPhone, iPad and other Smartphones. The app is free to download and contains three introductory comics free of charge. The store contains lots of different comics that star a variety of Doctor's from Tom Baker to Matt Smith. Each individual comic costs £1.19 and is downloaded straight away into the app's own personal comic library. The app's comic store is also frequently updated with usually two new comics per week.
The best thing about it however is the majority of IDW 'Who' comics are from America and don't make it over here to the United Kingdom so now we too can get all the latest comics! I have the app and have about 8 comics currently so I will be getting more soon!
There are some stills from the app below!
So download it now and happy reading!